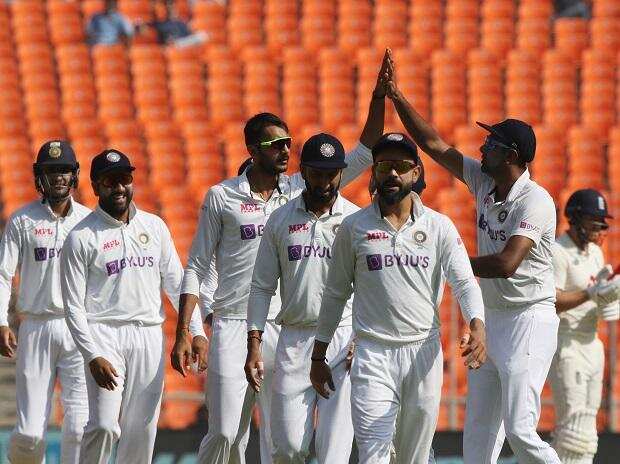 Team India is on cloud nine after its terrific performance in the 4th test match at Oval. The Indian team now has a 2-1 lead in the series and head into Manchester with their spirits up. For the first time in 14 years India will not lose a series in England. The Indian captain Virat Kohli was in his elements yesterday as he gave it to the English crowd with the fall of every wicket. The final day at Oval saw high drama as India won the 4th test by 157 runs despite the pitch being flat.
The story as it happened –
Day five of the 4th test match at Oval was filled with Drama as Indian bowlers bent their backs to win the test. What made the feat more outstanding was that this was done on a pitch which was termed flaccid and flat. With the fall of every wicket Virat Kohli was at his expressive best. The cameras at one point caught him playing the trumpet mocking the Barmy Army. Post the test win Australian channel Fox Cricket took to twitter and wrote "'Classless': World Divided as Virat Kohli trolls Barmy Army after embarrassing England"
Wasim Jaffer comes up with a perfect reply –
Former Indian opener Wasim Jaffer is not one to take a lying down. The elegant right handed batsman from Mumbai has been savage with his replies on twitter over the past year. His feuds against Michael Vaughan has been as entertaining as any. Jaffer was quick to spot the tweet by FOX Cricket and wrote "Captain Courageous: World applauds as Virat Kohli's team bring dead game to life and script historic win. Here fixed it for you @foxcricket. # ENGVIND"
Constant crowd issues –
The Indian team has been the subject of constant crowd trouble this series. The 2nd test at Lord's saw Bottle Corks being thrown at KL Rahul from the crowd. The 3rd test at Leeds saw the Crowd throwing stuff at Mohammad Siraj. The Barmy Army has been also at loggerheads with Virat Kohli and the Indian captain finally put one over the line yesterday. As the Indian team neared a famous win the Indian captain took this chance to mock the normally boisterous and banter seeking Barmy Army and shut them up for good with his taunts.
Captain Courageous: World applauds as Virat Kohli's team brings dead game to life and scripts historic win.
Here fixed it for you @FoxCricket. #ENGvIND https://t.co/LivwgPcUtv

— Wasim Jaffer (@WasimJaffer14) September 7, 2021