Virat Kohli and Viv Richards might be two different players from two different eras, but one thing they bought have common is their will to fight. Both have the same swagger while walking to the crease, and both love to pick up a challenge and score runs against any opposition in front of them. Viv Richards was a true icon for many upcoming cricketers when he was an active player, including one Sachin Tendulkar. Former Indian cricketer Vivek Razdan recently recounted an incident which left the great Viv Richards touched.
The incident as it happened –
Former India cricketer turned commentator, Vivek Razdan has been the voice of many thrilling games in the Hindi commentary booth. His energetic voice and insights have thrilled many cricket fans. The former fast bowler was recently in conversation with Sportskeeda, while he said something that showed the true character of Kohli. Razdan said the incident happened in West Indies in 2019 when the Indian team was touring post the World Cup which was held in UK. India had toured West Indies for 2 tests and a few ODI and T20 games. Speaking to Sportskeeda, Vivek Razdan said "In 2019, when India had reached West Indies for Tests and ODIs. All the matches were taking place in different islands. And because of it, West Indies cricket arranges a huge flight where they everyone travels together – players, production crew, board members and others. After the match in Antigua got over, we had taken the flight to reach out next destination. The players boarded the flight first, followed by the production crew. The commentary team comprised Sunil Gavaskar, Viv Richards"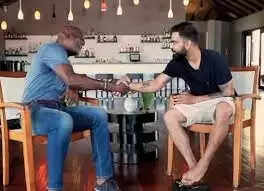 When Virat Kohli helped Sir Viv Richards –
Viv Richards is revered and loved world over for his cavalier batting during the 1970's and 1980's. The former West Indian skipper was known to be a brutal hitter of the ball, one who could pulverize the opposition. Speaking to Sportskeeda, Vivek Razdan recounted how Sir Viv couldn't find a place to keep his luggage and the instant reaction of Kohli. "What happened was that the players were seated, the flight was almost full. Sir Vivian Richards entered the flight with his bag but he could not find a space in the overhead locker since it was full. He was getting very worried and started opening different lockers to see if there was any space. Suddenly I saw Virat get up and started shuffling everyone's luggage. Everyone kept sitting, and barring Kohli, no one got up. Now, don't forget that Kohli back then was not only the captain of the Indian cricket team but in 2019, he was the biggest name in batting in world cricket. In the end, Kohli moved his own luggage, kept it below the seat in front of him and made room for Sir Richards's luggage. Sir Viv patted his shoulder and said thank you"
Virat Kohli might be aggressive on the field and prone to the odd outburst or a run-in against the opposition, but this act proves how much he keeps the elders in high pedestal and the respect he has for them.