Virat Kohli's form with the bat is a cause of concern for everybody, and the issue has now turned into a national obsession. IPL 2022 hasn't really been one to remember for Kohli as he has scored 128 runs with the bat from 9 innings. His best of 48 came against Mumbai Indians, while in the last 3 games he has scored mere 9 runs with 2 first ball ducks in back to back games. While criticism is good and accepted, the former India and RCB captain has been subject to some vile hate.
KRK comes up with a dumb tweet-
It is said opinion is like a tongue everyone has them, but what comes out is what matters. So-called Film Hero and So-called Film critic Kamal Rashid Khan has now taken the criticism and hate to a new level. Seeing Kohli's form he went on to tweet "Anushka is bad luck for #Kohli. He can only reclaim his former self if he divorces #Anushka". This tweet wasn't warranted but it also showed the misogynistic virtue this person has with hate and vile filled towards the couple.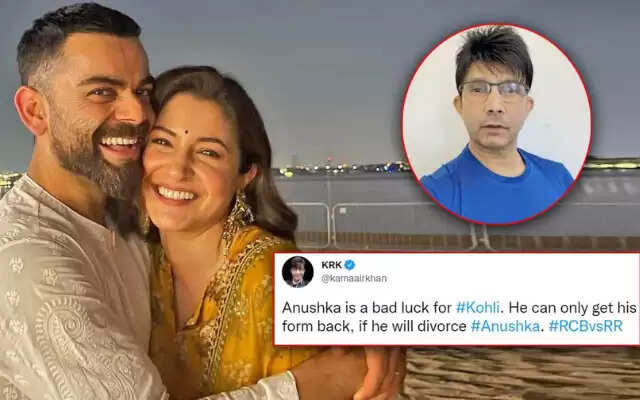 Virat and Anushka under fire not for the first time –
At a time when the entire world is looking for equality, the hate faced by Anushka for Virat's failure with the bat is shocking and dismal. This though isn't the first time the couple had been prone to such vile and baseless accusations and allegations and name calling. There have been plenty of times the Bollywood actress has been blamed for Virat Kohli's bad patch with the bat. Not only after they got married but there have been times when during their dating phase the Bollywood actress was at the receiving end of such tags.
Twitter blasts KKR for his tweet –
Once KRK put this tweet out, there were many fans who did not see the funny side to it. They took to the social media site to blast KRK for his tweet and made their feelings know to the so-called film actor and critic who has an opinion on everything that goes on in the world.