Indian Premier League 2022 has now witness 40 games in the tournament and over a month has flown by with the constant action packed games coming our way. The tournament so far has given us an amazing dose of cricket with memorable and some not so memorable incidents. This is the first time the entire tournament is being held in India after the 2020 edition was held in UAE and the 2021 edition saw the first half held in India and the next half in UAE. Last year the Indian fans couldn't come out to watch the matches as the fans weren't allowed inside the stadium. This year the fans have been vocal and there has been some amazing presence in the crowd that has been captured by the eagle eyed camera man.
Shruti Tuli the ardent CSK fan –
Few days ago Chennai Super Kings went down to Punjab Kings to lose yet another game and stay rooted in the 9th place. Chennai now need to win all the games to stay alive in the tournament as yet another loss can put then out of the tournament along with Mumbai Indians. The game against PBKS saw a very energetic CSK fan capture the attention of the whole stadium and the nation. The fan in question is Shruti Tuli who is a young model from Punjab. She stood 3rd in the Miss India Universe competition and has a huge following on Instagram with over 1.25 L followers. Miss Tuli was seen cheering every four and six hit by the CSK batters. She put up a story on her Instagram with herself and the magnificent Wankhede in the background and captioned it by saying "Not the result I was hoping for, but loved every minute of it"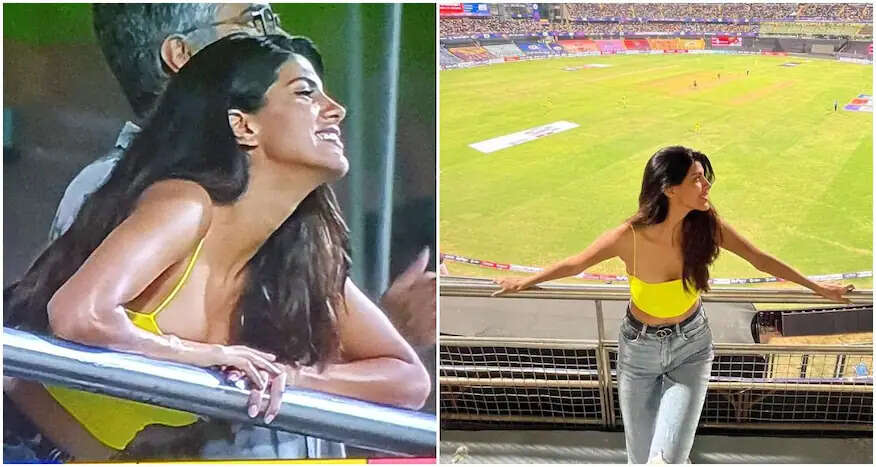 Massive games ahead for CSK –
With the loss to PBKS, the defending champs now have their task cut out ahead of them. The 4 time IPL champs now stand in the brink of elimination if they fail to beat SRH in their next game on Sunday at Pune. CSK had lost to SRH in their previous meeting to give the men in orange their 1st win of the season. Since that win SRH have been one of the best teams in the tournament with a complete team at their disposal. CSK fans and Shruti Tuli would hope they get to see the men in yellow more and she can cheer on her favorite stars more in the coming weeks.