Kolkata Knight Riders on Monday kept their slim qualification hopes alive with a 7 wicket win over Rajasthan Royals. KKR who had last won against Mumbai when Pat Cummins scored that memorable 50, since then they have gone on to lose five games in a row, including one against RR where Chahal picked 5 wickets. The win over RR now has given their 4th win of the season to help them to 8 points from 10 with 4 more games left in the season for the 2 time champs.
Nitish Rana hits back at Kevin Pietersen –
Former England batsman was critical in his views when he had a massive go at KKR for their selection tactics. The former English cricketer also called the KKR dressing room negative, when he said " I know that Mumbai Indians are having a shocker, but KKR are also in a dreadful way. They won three of their first four games and have totally lost it since then. They've used 19 players so far, which is far too many. For a franchise as big as them, it's just a horrible state of affairs". Yesterday Nitish Rana finally had his say on this during the post game interaction. The left handed batter from Delhi said "In our eyes we have got the best XI, probably the outsiders feel that we haven't. We comfortably won without any big player (making an impact). If we win like this, any eleven is best"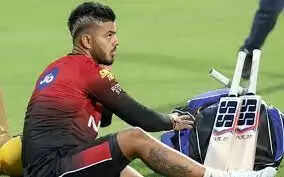 Nitish Rana plays an important role in the win against RR –
Rana started his IPL career with Mumbai Indians and won the title them in 2017. He then moved to KKR where he has been since then. Rana was picked this year in the auctions after being released at the end of the season by KKR. The 28 year old yesterday scored 48 off 37 balls with 3 fours and 2 sixes and was ably supported by Rinku Singh who scored 42 off 23 balls with 6 fours and a six. The duo added 66 for the 4th wicket and take their side to a win to keep them alive in the tournament.
KKR next face Lucknow on Saturday and Mumbai in the return fixture on Monday 9th may. A loss in either game will see them knocked out of the tournament, with their final two games slated to be against SRH and LSG in the return fixture on 18th may. KKR need to win all their games and hope to have a few more results go their way to make the top 4.