TATA IPL 2022 has been a fun filled one so far with the cricketing action being top notch. As the tournament heads into its final phase the top 4 teams are getting clearer with Gujarat and Lucknow being the stand out teams. Mumbai Indians are already out after their disastrous season and Chennai Super Kings need a miracle to qualify as they are on the brink of elimination after being played at number 9. IPL over the years has given some good performers and few have turned to be consistent over the years.
Pragyan Ojha reveals the two consistent performers
Former IPL title winner with Deccan Chargers and Mumbai Indians player, Pragyan Ojha during his heydays was one of the best spinners in the league. The left arm spinner had the guile and the ability to trick the best players in the world. Now part of the IPL governing council Ojha was speaking to leading cricket website Cricbuzz where he named his two most consistent players. Ojha said "for me, there have been two players who have always been consistent. One is Dhawan and the other is David Warner"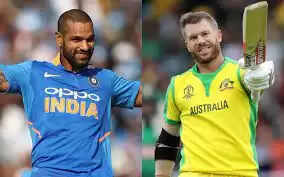 Dhawan and Warner's IPL numbers in a nutshell –
Both the left handed openers began their IPL stint with Delhi as Dhawan played in 2008 IPL and Warner's debut came a year later against CSK. After his stint with Delhi, Warner moved to Hyderabad where he found a new gear to his game and became the captain and won the title in 2016. Dhawan on the other hand moved to Mumbai in 2009 and was a huge part of the team which reached the final in 2010. Dhawan then moved to Hyderabad and in fact was Warner's opening partner for a few seasons. Warner has played 157 games and scored 5713 runs with 4 centuries and 53 fifties and has a strike rate of 140. Dhawan on the other hand has played 202 games scoring 6152 runs with 2 centuries and 47 fifties with a strike rate of 126.
David Warner today will be playing against his former side SRH for the first time since 2013. Warner who has a huge fan following in Hyderabad was dismissed as the captain mid-way through last season and was dropped from the playing XI too. This angered the cricketer and his fans and the 35 year old will be looking for revenge when he plays against his former side.
Click on the link to get the real time cricket updates, news and match score https://t.me/+d_XknWYMHtY0MzJl