2021 has been a mixed year for India in cricket across every format of the game. The year started with a bang for India with an unfancied and under-cooked Indian team beating Australia to win the series 2-1. Then a series win against England at home followed by a loss in the final of the World Test Championship. India then took 2-1 lead away from (one still pending to be played June 2022) against England. Followed by a home series win against New Zealand. In the white ball format, they had a year to forget with a miserable run in the T20 world cup.
Middle order woes for Team India in test cricket –
In one of the previous articles, Cricket Cult had spoken about the opening slot not being a cause for concern anymore. The problem though lies deeper in the engine room of the test batting. Gone are the days of opposition worrying about, Dravid, Tendulkar and Laxman walking in. Pujara, Kohli and Rahane have had a dreadful year with the bat in the longest format of the game .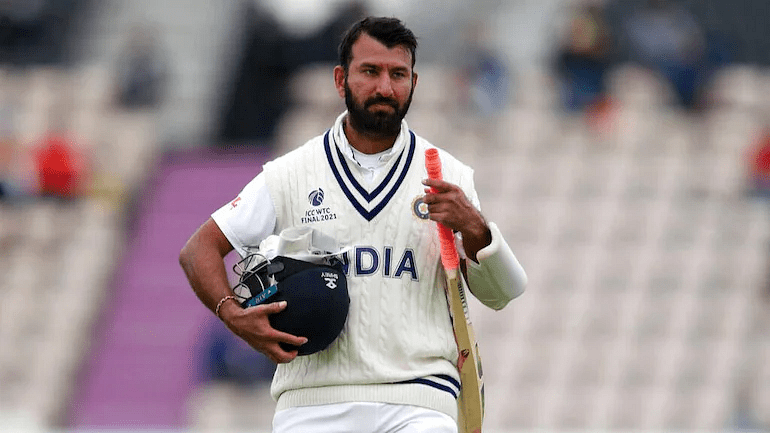 Pujara – a shade better than Kohli and Rahane –
India's number 3 batsman, Cheteshwar Pujara started the year with some telling contributions. He was the anchor and played a pivotal role in the series win for India in Australia. Post that his form tapered off a bit before he struck form with half centuries against England. Since January 2019 he hasn't been able to score a century and time is running out for the 33 year old from Saurashtra.
Year to forget for the King –
Virat Kohli cannot wait for 2021 to end, his woeful form with the bat has seen him go two years without a century. He has time and again fallen to the floaty outside off stump deliveries. His dismissal in the 1st innings of the centurion test is a prime example off that. This has been his worst year since his debut in whites a decade ago.
Rahane -Living on goodwill and prayer –
Ajinkya Rahane is another player who must count his stars lucky and thank them before going to bed every night. 2021 has been an abysmal year for the 33 year old from Mumbai. He began the year as the test captain leading the side to series win in Australia before losing his vice captaincy. 2021 has been a roller-coaster for Rahane. Like his skipper , the former deputy to Kohli too has had his fair share of problems with the away going deliveries.
2021 in numbers –
| | | | | | | |
| --- | --- | --- | --- | --- | --- | --- |
| Name | Matches | Innings | Runs | 50 | 100 | Average |
| Pujara | 14 | 26 | 702 | 6 | - | 28 |
| Kohli | 11 | 19 | 536 | 4 | - | 28.2 |
| Rahane | 13 | 23 | 479 | 2 | - | 20.8 |
This is perhaps the first time when Indian cricket has their top three batsmen go an entire calendar year without a century. Rahane is still holding onto the MCG hundred on Boxing Day test of 2020. Pujara's last century came against Australia in early 2019, while Kohli's last century came against Bangladesh late 2019.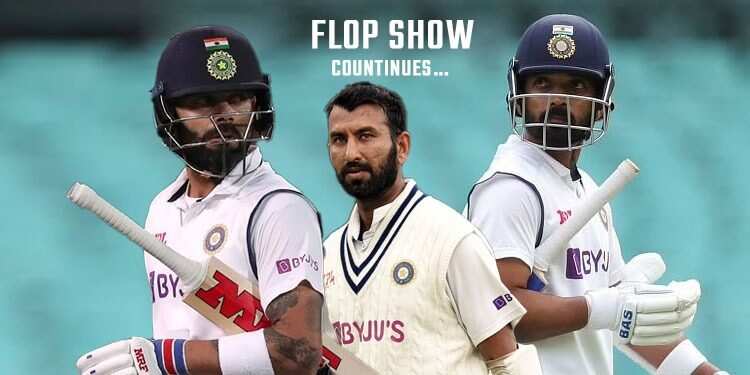 2022 and who stand to lose?
Rahane -With the emergence of Shreyas Iyer as a viable middle order candidate and the presence of Vihari, Ajinkya Rahane could see an premature exit from the Indian side. He showed glimpses of form during the 1st test against South Africa, a failure in the final two tests could spell an end to his international career.
Pujara – Despite scoring 702 runs in 2021, there are two drawbacks which could force Pujara out of the team. His inability to push for runs and his lack of centuries. Pujara lacks the aptitude to score runs at quick pace when India is pushing for a win. Next year India plays a lot of matches at home and still has two tests to go in the South African tour. This could be the best chance for Pujara to show what he is made off.
Kohli – Rahul Dravid will want his captain to strike form in 2022 and banish the ghosts of 2021. The Indian test captain has already given up on T20 captaincy for club and country. He was also replaced as the ODI skipper which has caused a furore of sorts in the Indian cricketing circles. If he doesn't get back to his scoring ways he might soon be replaced as the test captain as well. India needs a prime Kohli who turns 34 next year and might well be entering into a phase where the retirement questions come into effect. We might get to see Kohli for 4-5 years at the maximum and this is chance to set things right and give the fans some vintage years with the bat.