Indian cricket team is always been known to produce a competition for places. There is a new sensation that has taken the domestic scene by storm and his name happens to be Sarfaraz Naushad Khan. The 25 year old has been in amazing form with the bat since the end of 2019 before the start of COVID enforced break. Post the resumption of cricket, Sarfaraz Khan continued his good form with the bat yet hasn't been selected for the Indian team.
The story so far –
Indian cricket fans and the experts have been shocked by the constant non inclusion of Sarfaraz Khan. The 25 year old recently came out and indirectly slammed Chetan Sharma the chief of Indian selectors. Sharma had told Sarfaraz that he will be in the scheme of things for the tour of Bangladesh. This happened after Sarfaraz had scored a ton in the Ranji Trophy final. In a recent chat with Chetan Sharma, the 25 year old was again told to wait for his chances.
Rajdeep Sardesai slams the BCCI –
Rajdeep Sardesai is a name everyone knowns for his association with the media. He is also the son of Dilip Sardesai who was a player for India and Mumbai Cricket. Taking to Twitter, the journalist wrote "Delhi Vs Mumbai: yet another century by Sarfraz Khan. He now averages more than 80 in 1st class cricket, second only to legendary Bradman. Will any selector answer why he isn't good enough to be in India squad? Why no press conferences by selectors to explain choices? @BCCI"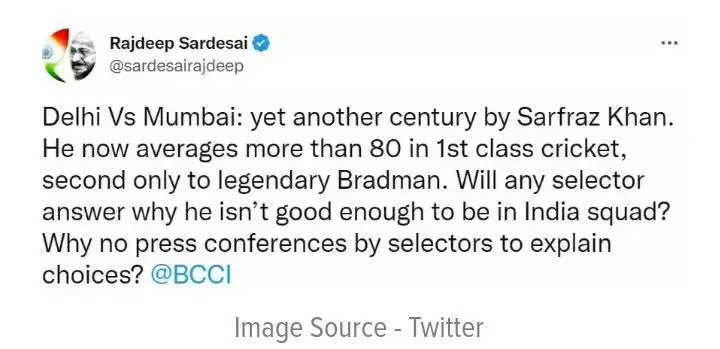 Sarfaraz scores a sensation ton against Delhi –
Mumbai and Delhi played each other in the latest round of games at the Arun Jaitley Stadium in Delhi. The visiting Mumbai side were all out for 293 at the end of the 1st Day. Sarfaraz Khan scored 125 off 155 balls with 16 fours and 4 sixes in his innings. Once Khan reached his ton, he did the Sidhu Moosewala celebration as Amol Mazumdar doffed his hat to his young Ward.
Back door entry for the Australia series?
Sarfaraz Khan could make a back door entry to the Indian test team for the series against Australia. Shreyas Iyer has been ruled out of the 3 match ODI series and replaced by Rajat Patidar. The seriousness of the injury isn't known so far and this could force the selectors to have a look at Sarfaraz Khan for the test team in place of Iyer.
Yet another 100 for Sarfaraz Khan. In testing conditions too at the Kotla pic.twitter.com/LkUWraNlHD

— Vikrant Gupta (@vikrantgupta73) January 17, 2023
Hundred by Sarfaraz Khan - yet another outstanding innings by Sarfaraz, he's unstoppable at the moment.

Mumbai were struggling one stage at 66/4, Sarfaraz came to the rescue once again! pic.twitter.com/y3Fhe4a2DM

— Mufaddal Vohra (@mufaddal_vohra) January 17, 2023
" Tu bolke nahi khelke jawab dena, tu mu se bolega kuch hi loga sunenge, balle se bolenga toh sari duniya ko sunna padega "
Once again bailing the team out of tough situation.
Its not just a Century, its a statement to selector. ❤️#SarfarazKhan #RanjiTrophy #MUMvDEL pic.twitter.com/o8PrujFWpu

— Vishal Yadav (@VishalY44691113) January 17, 2023
Sarfaraz Khan is not even knocking on the door, he literally broke that door with yet another statement hundred. Chetan Shrma and co. has blood on their hand.

— Make ICT Great Again (@Avik_mufc) January 17, 2023