Indian cricket team is busy playing the home series against Sri Lanka. The three match T20 series is witnessing both the teams share the spoils with the series scoreline reading 1-1. India won the first game at Mumbai and Sri Lanka took the second game by 16 runs at Pune.
Regular Indian cricket skipper Rohit Sharma is missing the T20 series. The 35 year old is scheduled to take over the reins of the side for the three match ODI series which begins on Tuesday. Rohit will have a busy time ahead as India is also scheduled to play New Zealand and Australia in the next few weeks to come.
The story so far -
While international cricket is hogging the limelight. The fans and all ten TATA IPL skippers will have their eyes set on the 2023 season. The biggest domestic T20 cricket league is set to begin in the final week of March running up to th end of May. Like every team, Rohit Sharma and his Mumbai Indians outfit will be looking to win the title. Mumbai Indians finished bottom of the table last year with just 4 wins from the season.
Jofra Archer's old tweet comes to light -
Jofra Archer the English fast bowling sensation has a huge fan following. He is not only loved for his fast bowling but also for his age old tweets which find relevance. A fan took a screenshot of a tweet by Jofra Archer which had slammed Mumbai Indians skipper Rohit Sharma. The tweet was dated 25 May 2014 and it read "this is foolishness Rohit Sharma" . the tweet in question was during the TATA IPL 2014 season when Mumbai Indians and rajasthan were playing each other in the game at Wankhede.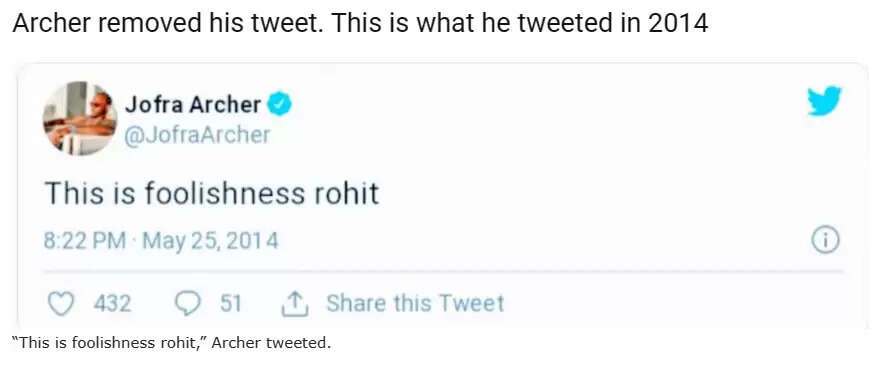 Former royal turned blue and gold -
Jofra Archer made his IPL debut for Rajasthan Royals in 2018. He soon became a fan favourite for his pace bowling, Yorkers and ability to make cricket exciting in general. Archer played a key role for England in the 2019 World Cup win. Archer has been struggling with injury issues since the last two years.
Mumbai Indians took a huge gamble when they bought Archer, during the TATA IPL auctions 2022 and paid over 8 crore for his services despite knowing he won't play the 2022 season. Archer will play under Rohit Sharma this season and is expected to form a lethal bowling combination with Jasprit Bumrah