The stories from the 5th and final rescheduled test match between India and England keep coming. The match was historic for two reason, as for the first time in cricketing history, the series has finished a year later. Secondly, it was a huge chase of 378 which England achieved in style and broke their own record chase of 359 against Australia which was done in 2019. The match was also infamous for all the needles in the middle as there were several instances of players having a go at each other.
The story as it happened –
Former India skipper Kohli was seen welcoming Bairstow late on day two with a "Quicker than Southee eh" quip which was heard on the stump mic. The next day the two could be seen having an animated chat which needed the umpires to get involved. Bairstow who was struggling till then, went after the Indian bowlers and scored a brilliant 106. In the 2nd innings the 32 year old from Yorkshire scored his 2nd ton of the game and 4 overall in succession to aid England to a win with Joe Root who scored 142 not out.
Anderson reveals what Bairstow said in the dressing room –
Jonny Bairstow wasn't one bit pleased as he made his way back to the hut during the luncheon break on the 3rd day. The 32 year old was batting close to reaching the milestone of reaching his century. Bairstow said in the dressing room "Jonny was 80 not out and Virat had been going at him and sledging him a lot. I don't know if you saw the strike-rate difference? His strike rate was about 20 before Virat started sledging him and about 150 after. His first words back in the dressing room at lunch were: 'When will they learn to shut it?' If there's somebody you don't want to rub up the wrong way, it is Jonny Bairstow". Anderson revealed the details while speaking on a podcast called Tail-Enders Podcast.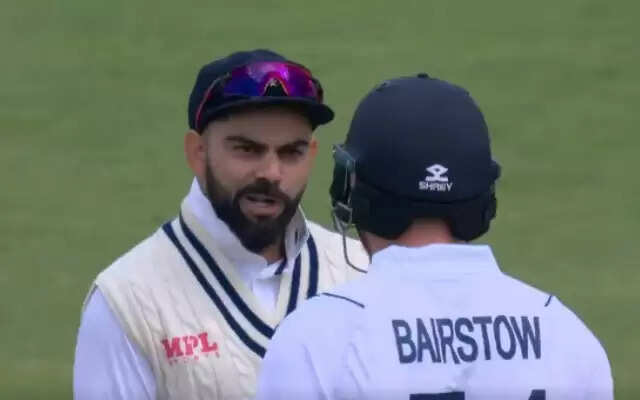 Bairstow's purple patch with the bat –
Bairstow was part of the Punjab Kings team which played the TATA IPL 2022 season. The 32 year old was good in patches, but it's the test form where he has found a new gear. Playing under new test coach McCullum and new skipper Stokes, Bairstow has been given the freedom to express himself. Bairstow began with a whirlwind 100 during the Nottingham test against New Zealand. He followed it up with 162 in the final test at Leeds, before the twin centuries against India.
Anderson reveals the change in out look and Baz-Ball –
England have shed their old age cricket and playing something called the Baz-Ball where they attack the bowling. James Anderson has spoken glowingly about this approach and said "It's the freedom we have now. We're not in hotel rooms, bubbles, having to do Covid tests every day and we can do normal things like go to the shop, go for a beer, see your friends and family. All of those things accumulate together and obviously the excitement of working with Baz and the clarity he gave everyone"