The current edition of the TATA IPL has been a surprising and entertaining one for sure. With still a month to go for the finals, there are still lot more games to played. While the action on the field has been entertaining right from the start, there have also been surprises along the way. Be it the dismal performance of Mumbai Indians or the patchy form of Chennai Super Kings. There has been another huge reason for concern, the form of India's top two batsmen Virat Kohli and Rohit Sharma.
BCCI president talks about the form of Rohit Sharma and Virat Kohli –
It has been an unusually quiet time with the bat for India's top two run-scorers Virat Kohli of RCB and Mumbai Indians captain Rohit Sharma. The two haven't really got going this season and with so much of international cricket lined-up there is a serious cause of concern. Kohli has played 9 games and scored a mere 128 runs, Rohit has played 8 games and scored 153 runs. Both the batters yet have to hit a half century. Speaking about this current BCCI chief and former India captain Sourav Ganguly has had his say. Ganguly opined "They are great players and I am sure they will get back in form. I hope they start scoring runs soon. I don't know what is going on in Virat Kohli's head but I am sure he will regain his form and get some good runs. He is a great player"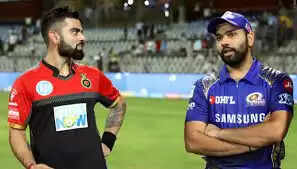 Time for the selectors to step in?
Cheteshwar Pujara and Ajinkya Rahane were recently rested from the Sri Lanka test series for their poor form. Pujara has gone back to domestic cricket and is playing for Susses, while Rahane is warming the benches for KKR after a good start. BCCI have said they wont drop Kohli, but will there be some sort of communication? India have a big tour of England coming up. They also have the World T20 later this year in Australia, Rohit will not only want himself to find form but also want Kohli to get back to his best. The eyes of the world will be on the selection committee as they sit to pick the team for the 5 match T20 series against South Africa post the end of IPL.