Cricketing rivalries are always special and when we speak about such a rivalry, one of the oldest is the Ashes. The nearly 2 century long rivalry between England and Australia has created lots of moments and memories to remember on and off the field. 2023 will witness the battle resume as the two age old rivals led by Ben Stokes of England and Pat Cummins of Australia are to lead their respective sides. The last time the two teams met was in Australia where the home team won the series with an easy 4-0 margin.
The story so far –
Barmy Army over the years have been one of the biggest support groups for the English teams home and away. The constant sight of the musical performances or the witty chants fill up the stadium no matter where England play. Over the years though, Barmy Army have become infamous for posting some inflammatory or insulting messages for the opposition players on social media.
Barmy Army taunts Steve Smith –
On 2nd June, Friday Steve Smith the current Australian vice captain celebrated his 34th birthday. The Barmy Army took to Twitter and posted a picture of Steve Smith crying. The infamous image outside the airport after the Sand-Paper gate of 2018 in South Africa and wrote "Happy Birthday Steve Smith, see you soon"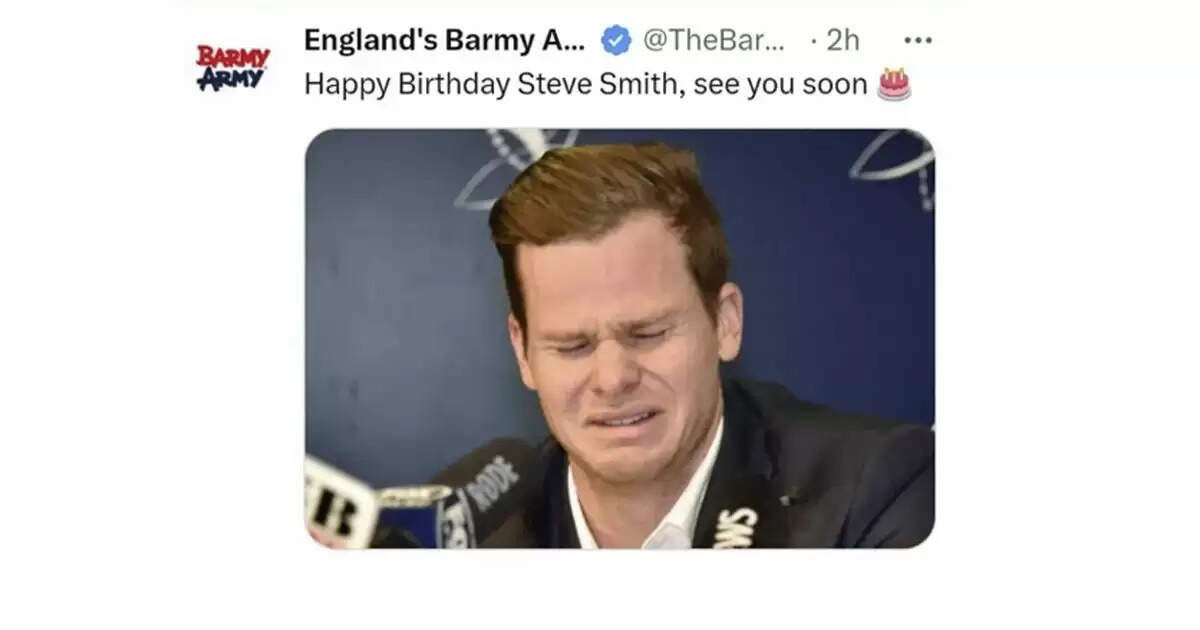 Steve Smith to be seen in the WTC final against India –
The Australian team will be seen playing India in the finals of the World Test Championships. The game is to be played at the KIA Oval at London and the game starts on Wednesday 7th June. Smith who wasn't part of the IPL 2023 season played a few games for Sussex under the captaincy of Cheteshwar Pujara.
Big Ashes series ahead –
2023 Ashes is perhaps going to be one of the most riveting contests in recent times. While Australia will want to hold on to the urn, the English under the new found Baz Ball will want to take it away. Ben Stokes and his men will be without Jofra Archer but the entire series is eagerly anticipated. Come Ashes the bat of Steve Smith will be waiting to give the Barmy Army a befitting reply.